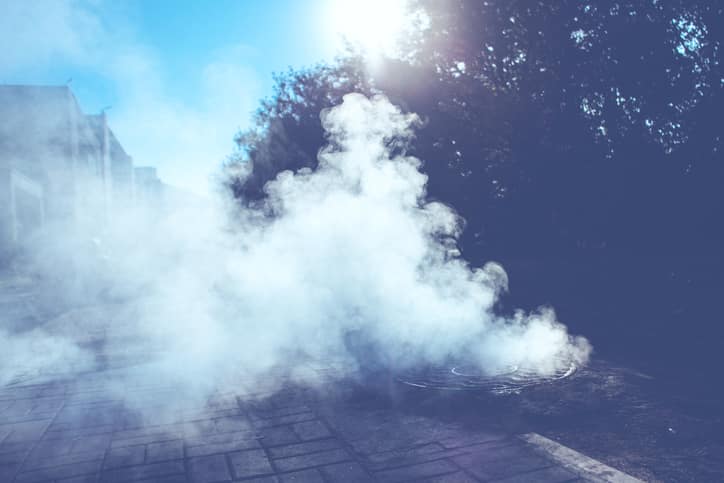 Police Officer Awarded $17 Million in Personal Injury Lawsuit
A police officer in Queens was sitting in his car writing a ticket when a nearby manhole exploded. His car shook, causing several serious injuries, including neck injuries that required spinal surgery. Now, he requires life-long care and can no longer work as a police officer.  He contacted the Law Offices of Nicholas E. Tzaneteas in hopes to receive financial compensation for his life-altering injuries.
Nicholas Tzaneteas took the case to verdict. The officer was awarded a total of $17,480,000 by a Queens jury.
NYC's Aging Power Grid: Potential for Injuries or Deaths
The officer's injuries and subsequent lawsuit may seem unusual on their face; an exploding manhole sounds like something out of an action movie. Unfortunately, it is an all-too-common occurrence in the greater New York City metro area. In April 2018, two such explosions rocked neighborhoods in the Upper East Side of Manhattan. According to figures provided by city utility company Con Ed, 2015 saw 3,781 manhole incidents. The following year, 2016, 1908 manhole incidents were reported, including explosions leading to injury.
Why are so many manholes exploding in New York City? Much of it has to do with the aging electrical infrastructure under city streets. Low-voltage electric cables running underground are exposed to moisture, typically during the winter months, resulting in fires and smoke that sometimes cause manhole covers to violently explode from the streets. In the case of the officer injured in the Bronx, the manhole's explosion was so intense that it shook the officer's patrol cruiser hard enough to cause severe injury to his cervical spine. The injuries and subsequent surgeries left him disabled and incapable of continuing in his capacity as a law enforcement officer.
Other Notable Case Victories
The Law Firm of Nicholas E. Tzaneteas is known as the premier personal injury attorney in the greater New York City metro area. Our firm has secured courtroom verdicts and settlements totaling millions of dollars for injury victims. Some of our recent successes on behalf of clients include:
$4,935,000 Verdict – a 21-year old man was walking on a street in Brooklyn when he tripped on a sidewalk missing a portion of its sewer grate. He injured his leg and back, requiring him to seek medical attention. After months of treatments and rehabilitation, he had to undergo a surgical procedure for his lower back. He is now permanently disabled as a result of his initial injuries. Attorney Tzaneteas took the case to verdict and a jury found the City of New York responsible, awarding our client nearly $5,000,000.
$2,250,000 Settlement – our client, a construction worker, was injured on the job when he fell off a ladder. He had to undergo several surgeries for his wrist and lower back, both of which were injured in the fall. He is now disabled and requires additional therapy to regain lost mobility. We were able to procure him a settlement of $2.25 million for his injuries.
$3,750,000 Verdict – our client, a 55-year old woman, was riding a city bus when the vehicle was rear-ended. As a result of the collision, she was thrown against the interior of the bus, resulting in significant injuries to her wrist and spine. After multiple surgeries, she requires additional rehabilitation. Nicholas Tzaneteas took the case to verdict. We secured fair compensation for her injuries as well as her lost wages and pain and suffering from the crash.