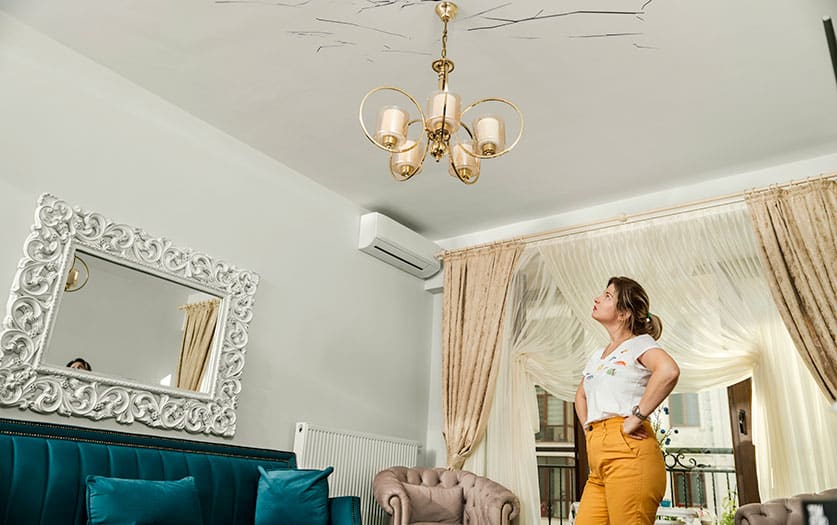 Ceiling Collapse — What To Do In the Event of a Collapsed Ceiling
Frequently Asked Questions About a Ceiling Collapse
What Would Cause a Ceiling To Collapse?
A roof can collapse due to negligence or faulty actions, and common causes include:
Passing over or poorly performing routine maintenance
Failing to treat infestations of termites or other pests
Not building the house to code
Using inferior building materials
Failing to repair cracks, water damage, or leak issues
If you notice warning signs such as strange popping or creaking or sagging sections in your home, it's important that you notify your property manager right away. Make sure you document all of your communication; written records can help your case in the event of a catastrophe.
2. Can a Ceiling Collapse Kill You?
If you happen to be in a room when a ceiling falls in, you could be seriously injured or killed. Victims have reported injuries that range from minor cuts and bruises to severe trauma like broken bones, traumatic brain injury and paralysis.
How Long Does It Take To Fix a Collapsed Ceiling?
Minor repairs, such as fixing small sags or water spots, usually involve reattaching or removing and replacing patches of plaster or drywall. A professional can usually address these problems in a few hours or less.
If the entire ceiling fell or is sagging, the restoration, cleanup and replacement will take more time, typically one to three days. If the incident causes structural damage, it might take longer.
How Much Does It Cost To Repair a Collapsed Ceiling?
While the total cost of repairs depends on the composition and damage extent, the average price tag is as follows:
Fix a sagging ceiling: $250 to $1,000
Stop leaks or water damage: $500 to $2,500
Replace a ceiling: $400 to $1,000
Address structural damage: $2,000-$8,000
It's possible that your landlord could be reluctant to fix "cosmetic issues" such as small water stains because of the cost. However, this kind of problem is usually indicative of more serious issues and should always be addressed.
What Steps Should You Take After Your Ceiling Falls?
If you suffer a personal injury in a ceiling collapse, seek medical attention immediately. Be prepared to keep records of your treatment. Afterward, take the following steps:
Notify your landlord as soon as possible, both verbally and in writing.
Take pictures of the ceiling, debris and your damaged property.
Document your injuries and make a list of any damaged or destroyed belongings.
Contact an attorney with experience in New York ceiling collapses.
New York tenants have rights that protect their safety. If a falling ceiling caused property damage, serious injury or a fatality, contact us so that we can help.